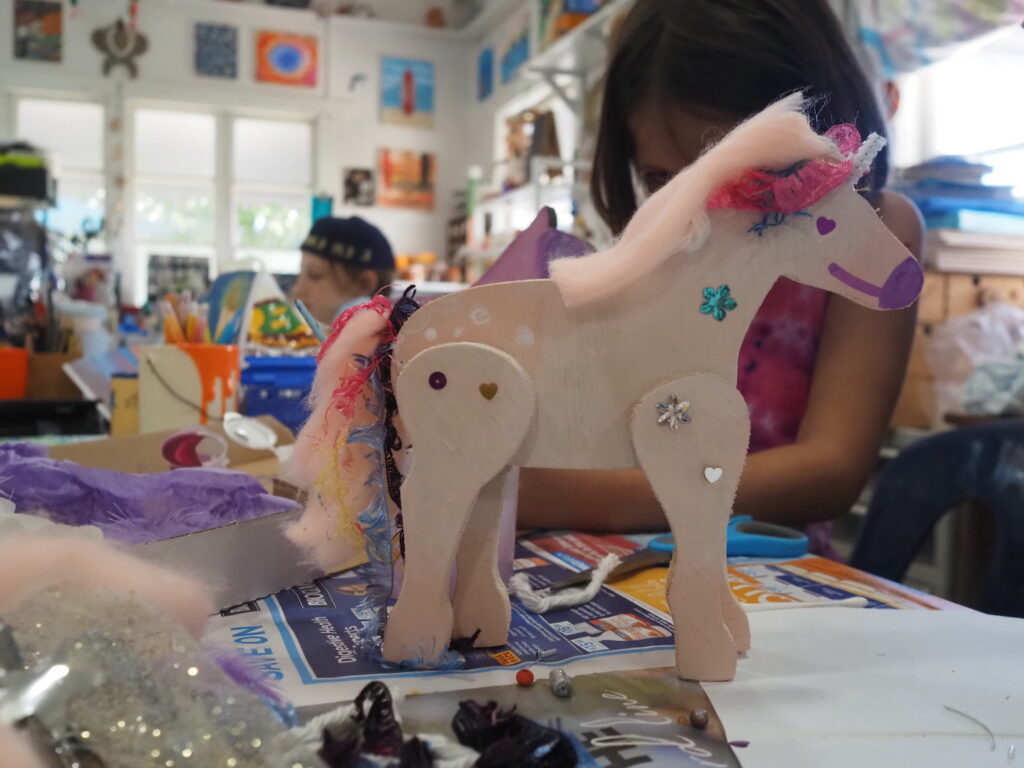 Thanks for buying our Unicorn Timber Deluxe Pack! We hope you enjoy using it. Below you will find the instructions, and instructional video.
Start:
Find a safe space to do your art:
Your art pack contains items that could get a bit messy! So find a safe place to do your artwork: perhaps cover your table with some newspaper or a plastic tablecloth, wear an artsmock or clothes that you can get paint on. If working outside – make sure the wind doesn't blow any of your items away!
What you will need: In addition to ALL the items in your box you will need: a cup with water for rinsing your paint brushes, some scissors
if you want to cut any bits smaller, and extra pencils, marker pens, etc. if you choose to add extra details. And depending on your age you may need a bit of help from someone older.
Painting:
Large areas with larger brush first:
The paint colours in your box may differ, so you can select the best colours to suit your Unicorn. Choose a MAIN COLOUR to be the background and start painting the whole surface area. You can add in an extra colour whilst the paint is
still wet if you want the paint colours to BLEND together. Add lighter or darker colours to create desired TONE.
Remember there are TWO SIDES to your Unicorn and edges too – all of theses areas can be painted!
When your paint is completely dry you can add extra details with marker pens or other art materials you have at home.
'Bits and Bobs':
There are two pipecleaner bits that can be used as the unicorn horn, and also to help attach wool for the tail – dip one end into PVA glue, then poke into the small holes drilled at the head and backside.
Use the PVA glue and cotton bud to attach more wool for the mane and any smaller items to decorate your Unicorn: beads, flowers, sequins etc
Dip your Unicorn's feet into the glue and then the glitter for sparkly hooves, or apply glitter wherever you would like it.
Lastly, decorate the box!:
With your left over paints, tissue paper and craft items you can paint and create on the inside and outside of the box. Let your imagination loose as the possibilities are endless! What you create on the box could suit the theme – or become something completely different. Look at some examples and ideas on our website. Share what you create to Instagram: #alcartpacks #alcthinkoutsidethebox